Analytics Powered by Conversation
There is a growing need to make big data more accessible and intuitive for enterprises. By applying artificial intelligence to power smart conversations about data, chatbots will transform the way companies rely on intelligent conversations to make decisions. Having a personal analytics assistant makes it as simple as having a conversation to get all the powerful answers you need for success.
Interact with chatbots using natural language and voice support

Getting answers from chatbots in the most helpful format: text, data visualizations, emails, reports, etc.

Personalized preferences and custom triggers to produce relevant, smart answers at a faster rate

Use case enterprise sales
My company has created the world's first AI-powered chatbot that turns data analytics into meaningful conversation.
Aristotle ...
will change how enterprises receive and understand information by providing new interfaces powered by conversations
is always on, delivering smart and flexible analytics through conversations on mobile devices using standard messaging tools and voice-activated interfaces
dramatically reduces the time to data for all business users, thereby accelerating the pace of business.
streamlines the way analysts use their time, preparing companies for the growing data needs of the near future.
Speakers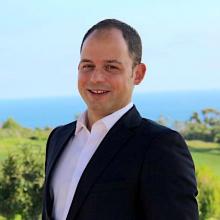 Co-Founder & COO
at
Bouquet
Marios Anapliotis is an Investor, Executive Advisor and Co-Founder / COO of Bouquet. Bouquet is the creator of Aristotle, the worlds first AI Analyst that turns data analytics into meaningful conversation. Marios has 20+ years of experience in conceiving, engineering and introducing commercially successful products for business intelligence, artificial intelligence, billing and online gaming. He fuels his passion for innovation by creating valuable IP and solutions that were once never thought possible and pave its way through the digital revolution. Visit bouquet.ai for more information.